Actors from the large and little screen have a really hard job to try to to , which at the top we see and appreciate but tons of efforts are put up to collect all the stunning moments before the audience. But have you ever ever thought , the moments just before the large performance of the celebs ??
In the year 2010 , American photographer Mark Bennington began a book project titled Living the Dream: 'The lifetime of the 'Bollywood Actor' which is an in-depth exploration of the acting community of Bollywood.
Bennington explains: "The series has 112 photographs and interviews from the start student to the most important star within the country and everybody in between. this is often the story of the many , that only few know.
"Actors are actors wherever you go; they share a universal commitment to story telling by hiding and revealing their lives at an equivalent time. It's this dichotomy that provoked the purest interest in me… i made a decision to present the actors in their own words, quoting them directly and making as few edits as possible."
Bennington's photos take a glance at what goes on behind-the-scenes when Bollywood actors create the movie magic on-screen.
Let's have a glance :
1. Ranveer Singh, at a gift show, right before flying right down to the stage employing a harness.
2. Kareena Kapoor Khan, expecting her shot to urge ready at a sunscreen commercial shoot.
3. Nargis Fakhri, preparing for a promotional event during a washroom in Mumbai.
4. Deepika Padukone, at a music video shoot in FilmCity, Mumbai.
5. Salman Khan and Sonakshi Sinha in Pune, with onlookers from nearby buildings gathered around.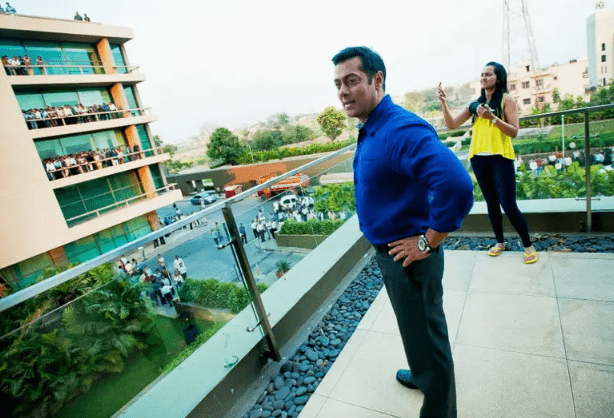 6. Ranbir Kapoor, between takes at a billboard shoot in Yash Raj Studios.
7. Ratna Pathak Shah and Naseeruddin Shah, watching a rehearsal ongoing from the lighting booth at Prithvi Theatre.
8. Abhay Deol, on a shoot location.
9. Shilpa Shetty, outside her vanity van after wrapping a billboard shoot in Mehboob Studios.
10. Boman Irani, preparing in his trailer for a shoot.
11. Neetu Chandra, practicing yoga early within the morning at Juhu beach.
12. Rajeev Khandelwal, finding out his look during a mirror on a movie set.
13. Huma Qureshi, asking for an image at Café Coffee Day in Mumbai.
14. Bharti Singh, preparing to draw a bead on a comedy show.
15. Randeep Hooda, riding one among his horses at the Mahalakshmi race course.
16. Late Dev Anand, snapped while talking about his illustrious movie career.
These are the wonderful photographs which have their own memories and history..
source